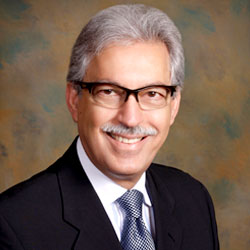 DR. EID MUSTAFA
Practicing plastic surgery since 1982 Dr. Mustafa graduated with honors from the Faculty of Medicine, Alexandria University, in Egypt. He earned the Resident of the Year award while completing General Surgery at Howard University in Washington, DC. He completed his Plastic Surgery training at Brown University Hospitals in Rhode Island, which has the oldest Plastic Surgery program in New England.
He is a member of many regional and national organizations, including the American Society of Plastic Surgeons, American College of Surgeons, and the American Society for Aesthetic Plastic Surgery. In 2000, he served as the President of Wichita County Medical Society and served for many years on the Board of Trustees of Physicians for Peace.
Certified and dedicated Plastic Surgeon Dr. Mustafa is certified by the American Board of Plastic Surgery. He is dedicated to continuing his education in order to look out for every patient's well-being. Dr. Mustafa is willing to go the extra mile to comply with ethical, safety, and educational standards.
You can rest assured that you will get the highest quality medical care when you choose Eid B. Mustafa, M.D. Dr. Mustafa performs surgery at the Plastic Surgery Center (PSC), which is a fully accredited surgical suite located within the office. He has extensive experience in all aspects of cosmetic surgery, and will always keep your needs and concerns as a top priority.
He received numerous awards including the Physicians for Peace Presidents Award, Physicians for Peace Physicians Diplomat, and the National Americanism Award by the Daughters of the American Resolution.
Dr. Mustafa also serves as a Director for the International Women and Children Burn Foundation also based in Virginia.
SUPPORTING INTERNATIONAL MEDICAL VOLUNTEERS AND RESOURCES
Serving on the Board of Trustees of Physicians of Peace
Eid B. Mustafa, M.D. supports the efforts being made to provide medical resources to people in third world countries, regardless of their religions, nationalities, color, or race. Dr. Mustafa served on the Board of Trustees of Physicians for Peace, which is a non-profit organization that touches the lives of children and adults in developing countries by providing medical resources. He is also on the Board of International Woman and Childeren Burn Foundation, (IWCBF).
Since the 1980s, Physicians for Peace and more recently IWCBF, has sent volunteers on missions to places such as Africa, Asia, the Caribbean, Central America, Eastern Europe, the Middle East, and beyond. Physicians, dentists, nurses, and other health professionals have dedicated their time and skills to helping those in need.
He also serves on the board of several other charitable organizations.
RECEIVE THE UTMOST
CARE FROM OUR STAFF
The staff at Eid B. Mustafa, M.D. plays a crucial role in providing you with client care and plastic surgery procedures you deserve. From welcoming you at the front desk to assisting Dr. Mustafa in surgery, our staff has the expertise to provide you with the best possible care.
Visit us today to meet and learn more about Heather, Jamie, and Stacy.
They are always willing to answer your questions and concerns.
I am Dr. Mustafa's nurse. I will assist you with your care, scheduling surgery, and any instruction you need. I want you to feel like family when you come to the office. I am a registered nurse, with 15 years experience. I lived in Long Island for awhile and recently moved back to Texas. I was born and raised in this area and have been happy to be back.
– Heather Sharp, RN
I am the surgical technician who assists Dr. Mustafa in surgery. I am also the receptionist on days we are not in surgery and I look forward to meeting you. Before coming to work at the Plastic Surgery Center I assisted in surgery at the North Texas Surgi-Center.
– Jamie Perez
I will greet with you a friendly smile and gracious attitude and be more than willing to help you with any of your questions regarding insurance or financial matters. I enjoy meeting each of you in order to assist you in any way possible. Please do not hesitate to contact me at any time with any of your questions.
– Stacy Miller, Receptionist